Introduction
Long-acting injectable formulations have been successfully developed for multiple APIs, including small molecules and peptides, resulting in improved patient compliance and enhanced therapeutic outcomes. A common approach involves microencapsulation of the therapeutic agent within biodegradable materials, such as poly(lactic-co-glycolic acid) (PLGA), which can be lyophilized into a dry powder for improved shelf stability. Following a single injection, sustained drug levels in the blood or target tissue for 1 – 3 months can be achieved. Long-acting injectable formulations have been developed to treat a variety of diseases including cancer, psychotic disorders, narcotic dependence, hormone regulation, and periodontal disease [1]. Examples of FDA approved products include Lupron Depot® (leuprolide acetate), Vivitrol® (naltrexone), and Bydureon® (exenatide).
Phosphorex has extensive expertise in the development of long-acting injectable formulations for multiple API types including small molecules, peptides and proteins. Phosphorex can provide a custom scope of work that best suites the properties of the API, stage of development, route of administration, and intended therapeutic outcomes.
Areas of Expertise:
Pre-formulation

API Solubility / Stability

Analytical Method Development

API loading / In Vitro Release Assays (Figure 1)

Formulation Development

Optimization of Particle Size / Size Distribution / API Loading (Table 1)

Process Development and Scale-up

Equipment Selection and Process Optimization

Lyophilization Cycle Development

Selection of Lyoprotectant

Tech-transfer to GMP Production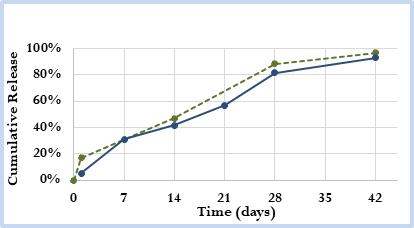 Figure 1.
Cumulative in vitro release profile of prototype generic microsphere drug product (solid blue line) versus Reference Listed Drug (RLD) product (dashed green line).
Table 1.
Optimization of formulation and process conditions to achieve target particle size (< 20 µm) and drug loading (> 10%w/w).
| | | |
| --- | --- | --- |
| Process | Particle Size, µm | Drug Loading, %w/w |
| 1 | 13 | 7.9% |
| 2 | 43 | 10% |
| 3 | 17 | 11% |
References
[1] Jain, A., Kunduru, K. R., Basu, A., Mizrahi, B., Domb, A. J., & Khan, W. (2016). Injectable formulations of poly (lactic acid) and its copolymers in clinical use. Advanced drug delivery reviews, 107, 213-227.

Phosphorex provides this information as an illustration only. This illustration does not create any contract between Phosphorex and a customer and nothing in this illustration is legally binding. Actual results on specific projects may vary. We make no representations or warranties of any kind that this information is accurate or suitable for your intended use. In particular, we cannot guarantee that any process developed at laboratory scale will be suitable for larger scale production. Phosphorex MAKES NO WARRANTIES, EXPRESS OR IMPLIED, INCLUDING WITHOUT LIMITATION THE IMPLIED WARRANTIES OF MERCHANTABILITY AND FITNESS FOR A PARTICULAR PURPOSE, OR THAT A PRODUCT WILL NOT INFRINGE OR MISAPPROPRIATE THE INTELLECTUAL PROPERTY RIGHTS OF A THIRD PARTY WHEN USED FOR YOUR INTENDED APPLICATION. All applicable obligations and warranties must be set forth in a suitable agreement between Phosphorex and the customer.